Mexico City Earthquake Reconnaissance – Day 4
Central Mexico Earthquake Reconnaissance – Day 4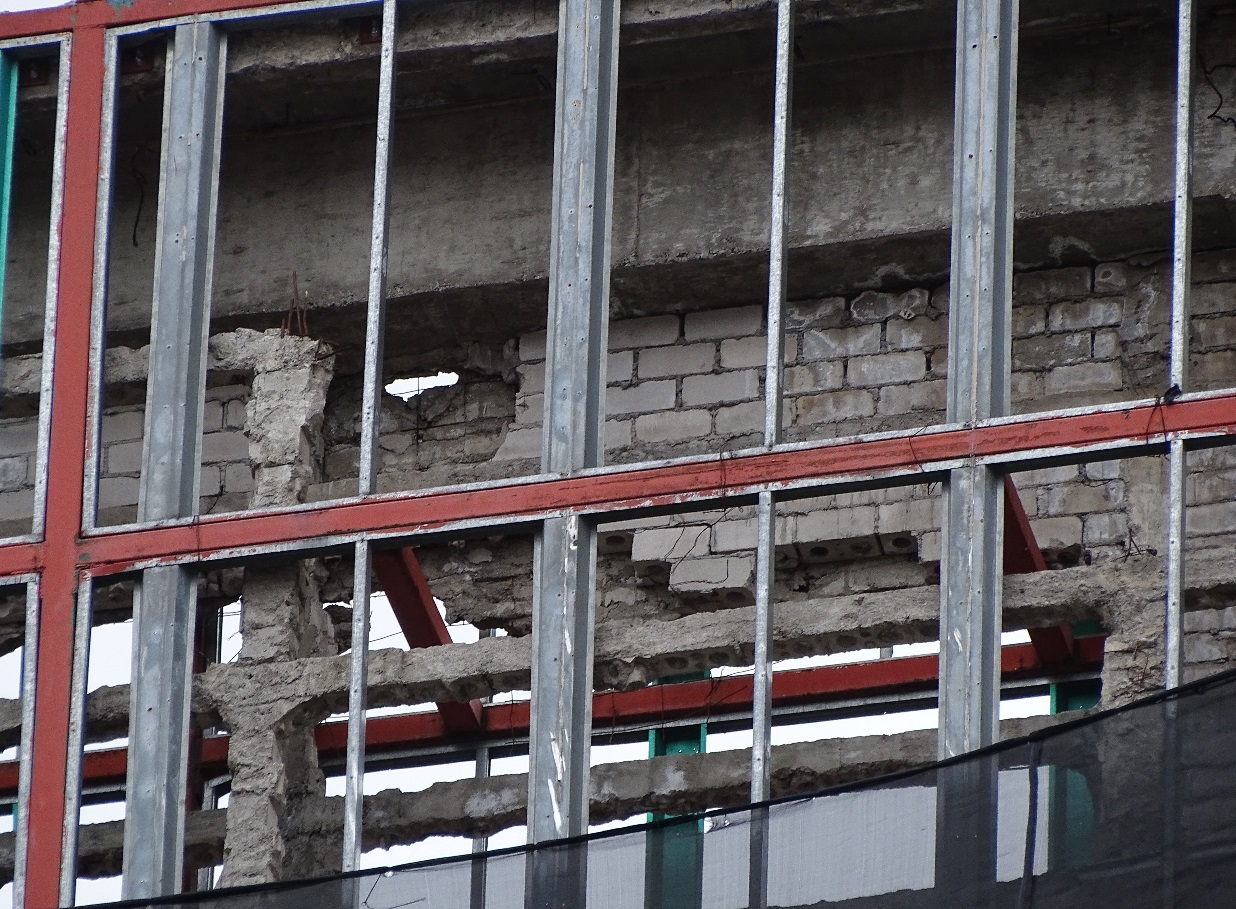 Today we drove 2.5 hours southeast of Mexico City to the city of Puebla. With a population of 1.5 million, Puebla is located 30 miles closer to the epicenter of the September 19th, M7.1 earthquake than Mexico City. The published USGS (U.S. Geological Survey) shake map showed higher levels of ground shaking intensity for Puebla as compared to Mexico City.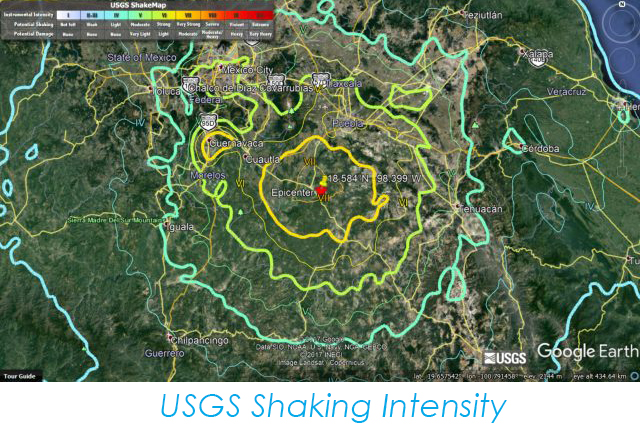 We read a September 28th article in the Mexico News Daily with the title "State's largest hospital has to be demolished". This article was referring to the Regional General Hospital Number 36, San Alejandro in Puebla. This hospital is a 323,000 square foot, 641-bed facility with more than 2,500 staff members and was constructed in 1976. The hospital, one of the largest in Latin America, reportedly had suffered substantial damage and would need to be completely rebuilt. Based on the article, we assumed there would be other damage to buildings and infrastructure to look at.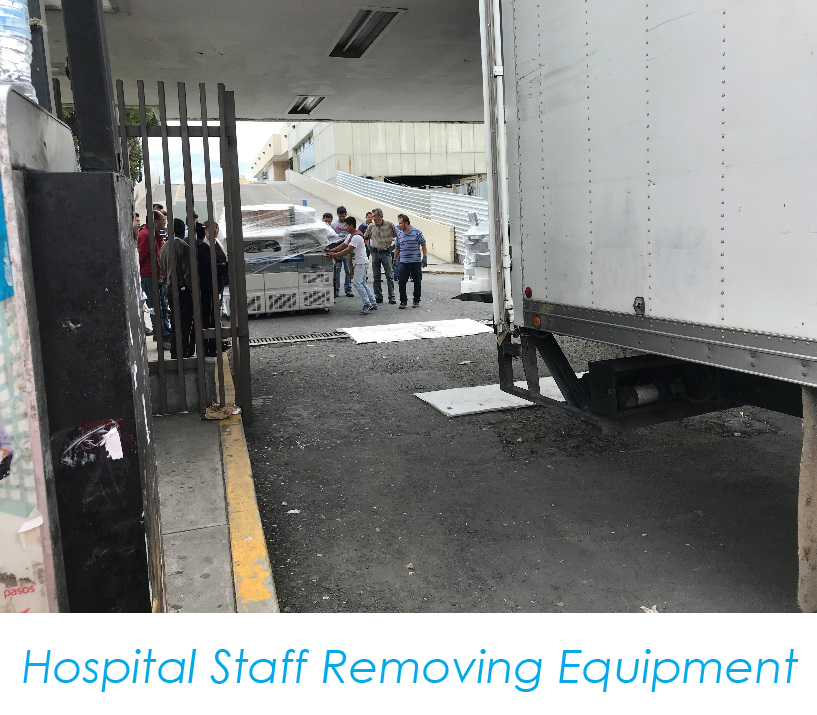 When we arrived in Puebla we went directly to the hospital. We noticed the hospital was closed and staff was actively moving medical equipment from the facility. However, we saw no real evidence of significant structural damage from the outside, except for what appeared to be some confined masonry infill damage near the top of the building. After walking around the facility perimeter, we were told by hospital staff that only nonstructural systems were damaged and that the hospital did not require demolition.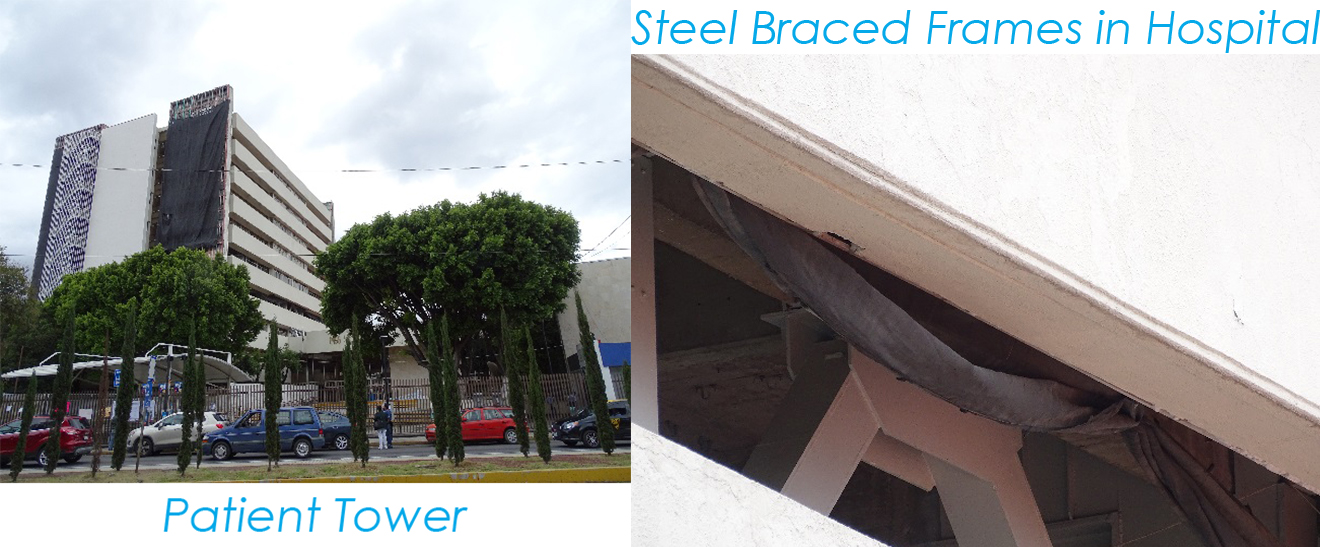 We did notice that tucked inside the perimeter building skin were steel braced frames in a chevron configuration. Based on the age of the building and the heavily reinforced bracing connections, this looked like a seismic retrofit.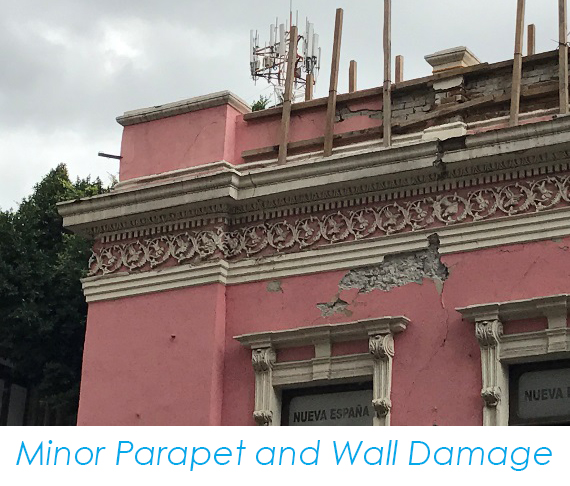 After leaving the hospital, we ventured to the historic downtown area of Puebla in search of building damage. Our team split into two groups of 4 and walked for about 1.5 hours through the neighborhoods. To our surprise there were very few buildings that experienced structural damage. The primary extent of damage was cracked exterior concrete plaster or damaged parapet cornices, all very minor. However, there were a few buildings that experienced significant cracking of exterior walls and were stabilized with temporary shoring. All the buildings are generally two stories in height with no seismic joint between them. Our thinking is that these building likely all laterally supported one another and rode out the shaking as one big raft of buildings. Also, the ground accelerations reported by UNAM for the city of Puebla turn out to be only 141.7 cm/s2, or 0.14g.
For the most part, Puebla felt like "business as usual" with normal activities of pedestrians on the sidewalks and vehicle traffic in the streets. Very few businesses appeared closed and it was hard to tell a major earthquake happened less than two weeks prior. On our way out of town we noticed a 14-story residential building with significant "X" cracking of the perimeter walls. Like many other buildings in this region, it appeared to be a concrete frame building with masonry infill walls (i.e. confined masonry). The building had two exterior walls with ample amount of solid wall over most of the building height, but the other two building sides had very little shear wall.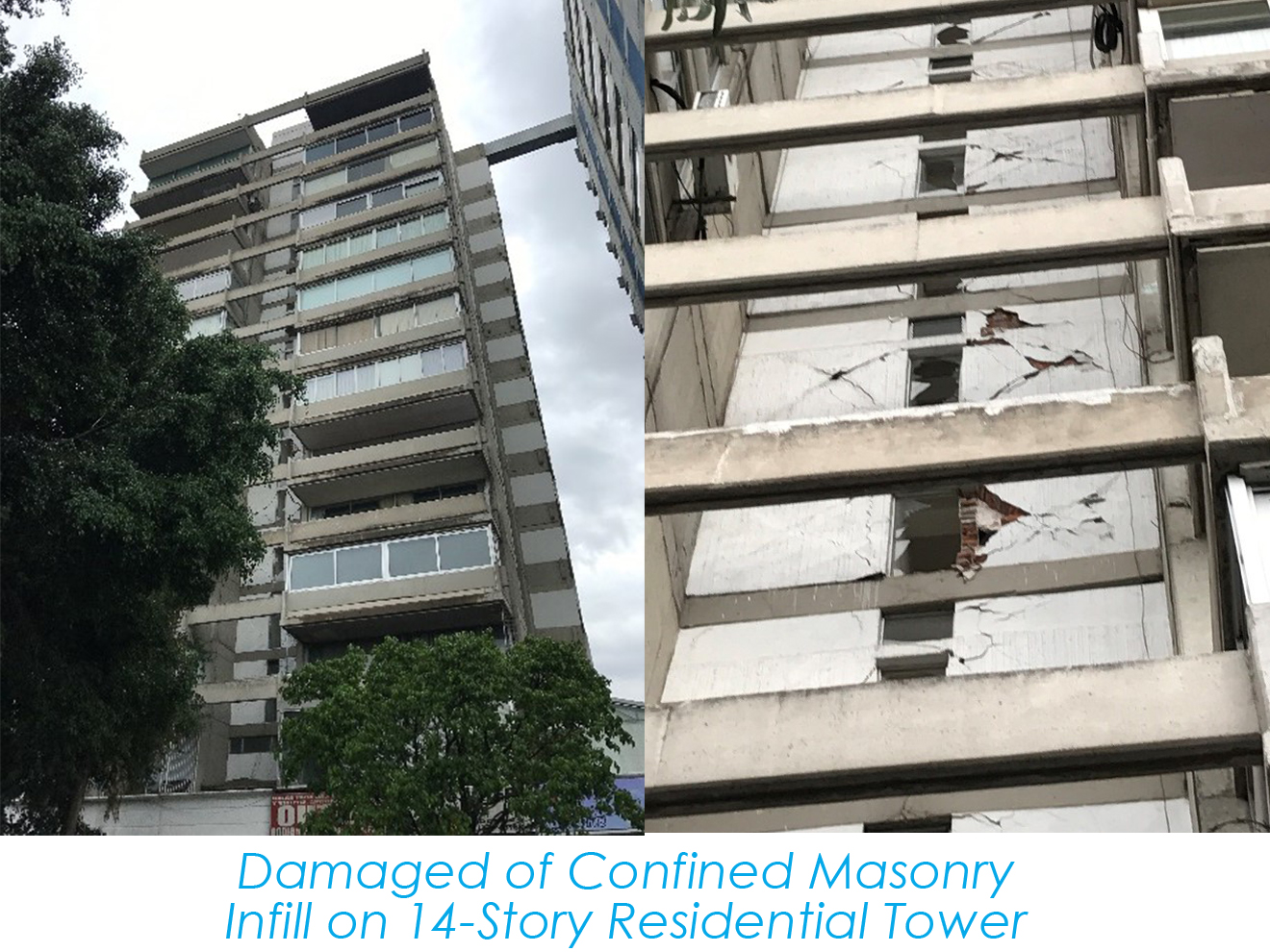 We could not enter the building, but noticed on one side of the exterior there was only a small segment of exterior wall that was heavily damaged. There is likely a confined masonry elevator or stairwell inside the building, but the building response may have been primarily torsional since only one wall was heavily damaged. One interesting thing we observed was the adjacent building and lack of damage. The building next door, connected at the roof level, was identical, but oriented 90 degrees in plan from the damaged building. Building orientation with respect to the direction of strong shaking likely had some influence on the difference in damage between these two buildings.
---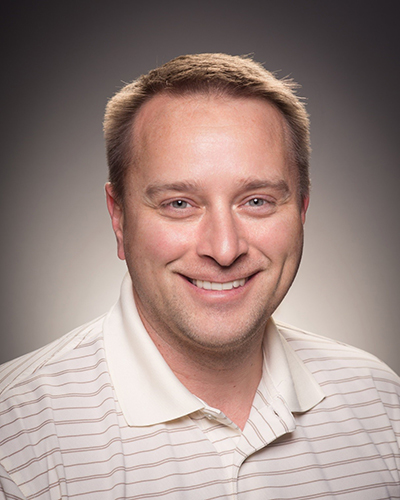 Brian Knight, P.E., S.E.
Founder and Principal of WRK Engineers, a Structural & Seismic Engineering consulting firm that is in the business of solving structural and seismic problems with adaptive solutions that protect and preserve people and assets.
---
Check back for more daily posts as I share my observations from Mexico City.  If you have questions or comments, please go to our Contact page.  I would love to get your input.
Latest News
Looking for innovative, outside-the-box thinking?
WRK Delivers.
Creative solutions are our business.
WRK Delivers.
Service. Excellence. Creativity.
WRK Delivers.
Proactive. Responsive. Reliable.
WRK Delivers.
Design Excellence.
WRK Delivers.
You need the right solution.
WRK Delivers.